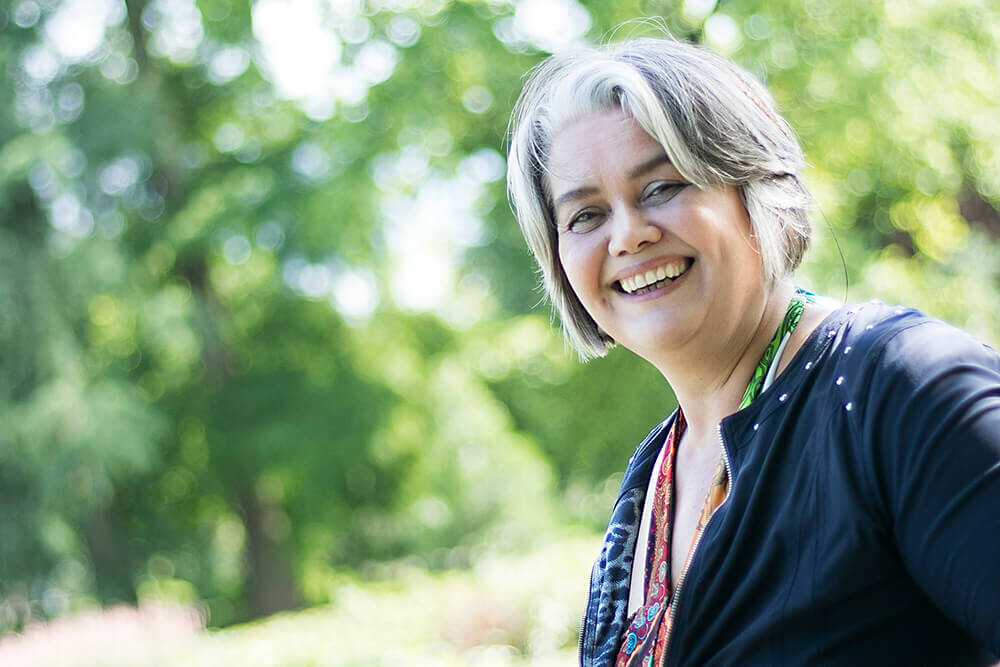 Jolanda Gerbecks
"You thought you were a particle, small, but inside you is a universe, the greatest." – Ibn Arabi
Grown through inspiration
I have been fortunate to have met many inspiring teachers in my life. This already started at high school with a history teacher, who, by his way of storytelling, opened up history for me and thus a world within. Throughout the years I sought and found inspiration with those teachers that shared their knowledge and experiences from their heart with me and this inspired me to do the same for others. The inspiration I got made me grow as a human. Made me more conscious and whole. I wish that for everyone.
To overcome trauma
Next to an enduring love for nature and animals, I have had a life long full of learning and working with pleasure. That started as a cook, went to being a manager in the textile and furniture industry and after a year backpacking in the East in 1996 changed into educator. Since 1998 my educative business "The Change" (De Verandering) has been registered at the Chamber of Commerce.
I come from a broken family and have been traumatized as a young child by sexual abuse. To overcome my trauma I walked a long road which turned out to be very much worth the effort. That road lead up to becoming a counsellor, coach and trainer in mental healthcare. Here I feel like a fish in water.
Trauma sexology
As a sexual trauma experienced based trainer I know what kind of problems will develop in areas of life, after you have been exposed to unacceptable sexual behavior. Searching for solutions I learned from and about many therapies, and recently followed a specialized programme to systematically eradicate the poisonous connections.
Because I have experienced the wholesomeness of these processes I wish that for everybody who has ever been a victim of sexual violence.
Spiritual communication
A number of inexplicable experiences in my life have given me the certitude of knowing there is more between heaven and earth. I am not a fan of religious institutions and dogma's and I don't follow a regular path, but I have studied religions (at the Nijmegen University) and specifically steeped myself in mysticism. The premises that all is part of one unity, on macro and micro level, is something that science  is proving more and more.
Although these provable facts can confirm what you already know, it is always about your own inner experience, which is your guide during a spiritual experience.
To strengthen this relationship with your inner self, is what I love to transmit to others.
To me, to work with a system, comes closest to experiencing "the forcefield" we are connected with. My trust that, once the door is open, the answers will come along the way, is confirmed by the students and their experiences.
Personal commitment and development at the center
Since 2005 I have been a trainer at the ACC. Especially in this sector I have the pleasure of meeting up with humans, who, just like me, want to be of assistance to others on a mental and spiritual level. By helping my students to become better at doing so, I also contribute to the greater well being of their clients.
Through the informal and personal atmosphere guaranteed within the classes, I am able to supply the depth which makes a group grow.
It is not a business or informative process. Your personal commitment and development stand at the core.
My inspiration
Fatima de Cordoba, a mystic from Andalusia in the twelfth century, who had Ibn Arabi as a student. She inspires me through her highly developed skills and her modesty. The greatness of Ibn Arabi has been influenced by her guidance.