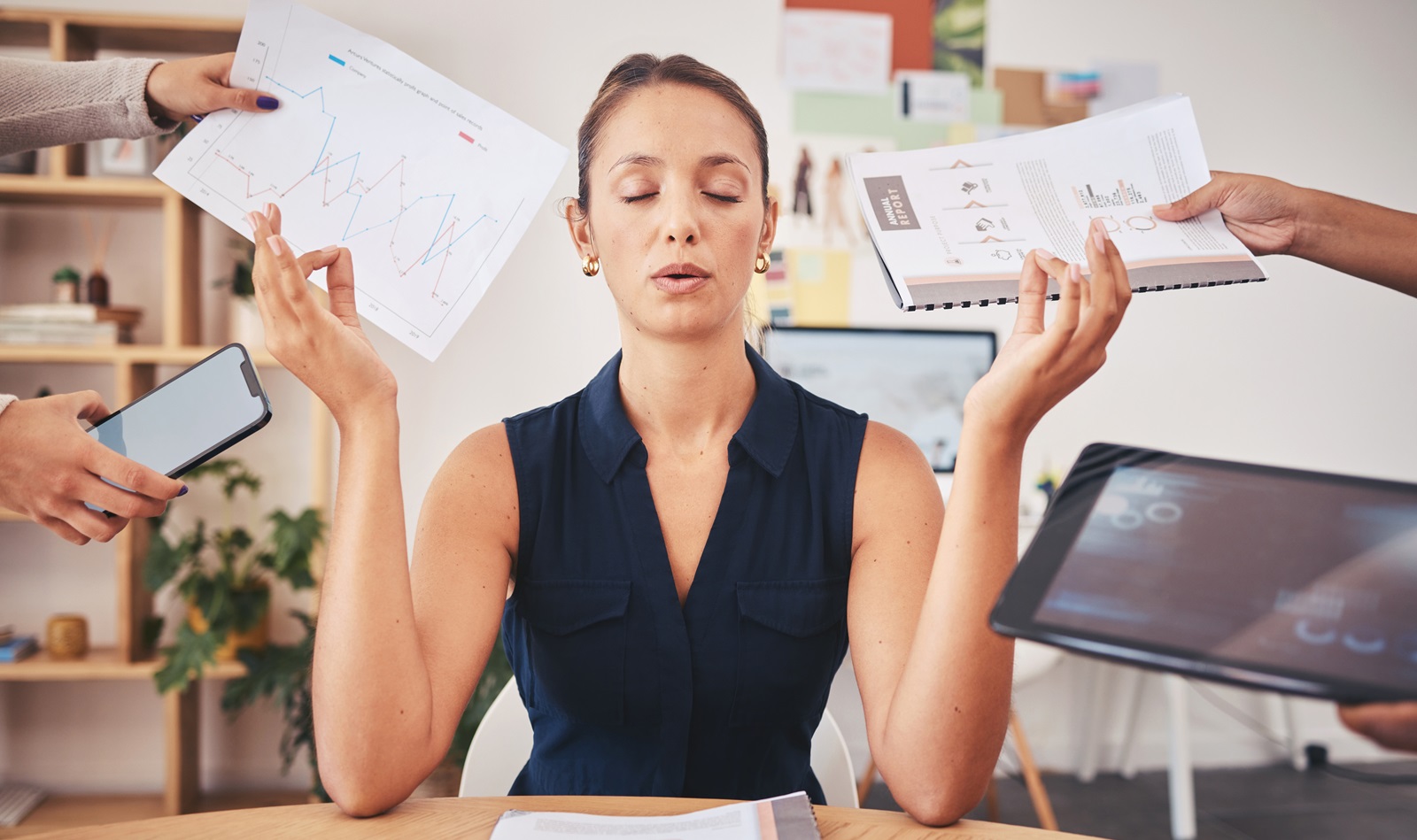 More and more work-related stress
This week (13 to 17 November 2023) is 'Work Stress Week' in The Netherlands. This theme week has been around since 2014. The goal is to raise awareness around the topic and to encourage employers to reduce work-related stress amongst their employees. Unfortunately this is still highly necessary – work-related stress is still hot topic and the consequential sick-leave amongst employees puts a growing pressure on the economy.
Sick leave rises to a record high
In 2022, sick leave in the work field reached a record high. Stats from the Dutch Central Bureau of Statistics show that the sick leave rate hit 5.6% in the last three months of 2022. This was largely caused by mental complaints, such as (mental) exhaustion, burnout and depression. Besides this increase in sick leave due to mental issues, the absenteeism also lasted on average 10 days longer than five years earlier. This is obviously highly unpleasant for the employee, but it also means huge costs for companies and the government.
What causes work-related stress?
The biggest cause of work-related stress is the increased workload in many jobs. Research by the Dutch Arbo Unie shows that staff shortages in particular increase work pressure. This problem already starts with finding staff: it has become increasingly difficult for employers to fill job vacancies, which puts more pressure on existing employees. And when staff does get hired, there is hardly any time anymore to train people properly, which throws new employees in at the deep end. Also, staff shortages can be so glaring in some sectors, that little to no leave can be taken. As a result, employees can no longer properly rest. If staff then start to succumb to all the pressure and drop out, an even higher workload builds up for the colleagues that are left behind. This creates a vicious circle.
Secondly, the digital era contributes a lot to stress amongst people. The Arbo Unie states that psychological absenteeism amongst employees up to 25 years of age is showing a sharp increase. In this case, social media is seen as a major culprit. Mado Remkes, teacher of our Stress and Burn-out programme, also observes that the increasing popularity of social media plays a role in social pressure amongst people: "With the advent of social media, an image has emerged that you have to be able to do everything: you have to be a perfect partner and parent, and you have to excel within your professional career. It is noticeable that a lot of people get stuck because they feel they have to live up to that perfect picture but can't."
Lastly, a major contributor to work-related stress is the disrupted work-life balance for many people. These days, we are almost merged with our smartphones. As a result, we receive e-mails and messages from work 24/7. We do not hesitate to open our laptops in the evening for work-related matters. The increasing popularity of working from home further blurs the distinction between personal life and work. "Before the digital era, employees used to close the door of work behind them, after which there were few opportunities to engage with work," Arboned states. Nowadays, however, there is virtually no 'work door' anymore, and work continues as long as the phone or laptop is nearby. It is however incredibly important to be able to let go of work completely, so that a healthy balance between relaxation and concentration can be kept.
So what is the solution?
This is all very interesting, you might say, but it is not really anything new. The big question is: what can we actually do to change it?
An important role in preventing work-related stress ultimately lies with the employer. This too is nothing new, but something is still not going quite right. As much as employers seem to want to contribute to the prevention of work-related stress amongst their employees, absenteeism is still a major problem.
According to the Arbo Unie, the first step should be to reduce the material cause of sick leave amongst employees: the lack of staff. Obviously, this is not always in the employer's control, as the labour market can sometimes simply be difficult. But purposely cutting back on staff is not a smart option in any case, as you then almost inevitably run into the expensive consequence of sick staff in the long run.
The Arbo Unie further argues that immaterial aspects are equally important. This refers to the workplace atmosphere, where people should be able to work "comfortably". Employees have three basic needs: autonomy, connectedness and competence (also known as the 'self-determination theory'). People want to be able to work independently (with encouragement from above, but without control or pressure), while having sufficient contact with colleagues, and with a sense of being competent in the carried out work.
The theme of the 2023 Work Stress Week is (re)connecting. In this era of hybrid working, increasing individualisation and a tight labour market, mentally healthy employees, who feel connected to each other and to the organisation in a safe working environment, are hugely important. After all, resilient people hold their own in changing and stressful circumstances. In a safe working environment, you are allowed to ask questions, make mistakes, be critical and learn from each other. This improves job satisfaction and reduces work stress.
The advice for employers is therefore twofold:
On a material level: don't skimp on your staff. Make sure you have enough manpower for a job.
On an immaterial level: talk to your people. Sit down with your employees and together look for their talents and skills. Give them more trust and freedom. Less control and more recognition and appreciation makes for healthier staff.
A good solution to the second point could be the assignment of a coach. ABN AMRO writes in a report on absenteeism amongst staff that prevention-oriented HR-policy is crucial to combat work-related stress. Investing in preventive coaching is an important tool in this respect: "(Mental) resilience can be trained. Coaching is not only important for the individual and for preventing absenteeism, but also has a positive impact on the way a team works together." The involvement of management in this case is crucial, so that they will actively engage in preventive measures to reduce work-related stress. Those preventive measures can include coaching.
The above entails that there is a growing need for (preventive) coaching in the field of work-related stress. The growing trend of work-related stress also means an increasing need for good coaches in this area.
Are you interested in working in this field of coaching?
At the Academy for Coaching and Counseling we offer several training programmes that teach you to guide people who are struggling with (work-related) stress. We have several dedicated Dutch programmes in this field, and we have options to learn about this area in our English programmes. In our English Coaching and Counselling Year 1 and Year 2 programmes, much attention is paid to the topic of (work) stress. In the first year, stress, burn-out and depression are important themes. In the second year, you will delve further into these themes during the 'Personal life and health' block. If stress-prevention is your area of interest, you will be able to make this your specialisation in the second year training programme.
If you would like more information on this or any of our other programmes, please feel free to contact us.
Sources
CBS – https://www.cbs.nl/nl-nl/nieuws/2023/10/ziekteverzuim-in-vierde-kwartaal-2022-opnieuw-hoger
Accountant – https://www.accountant.nl/nieuws/2023/8/werkdruk-belangrijkste-oorzaak-ziekteverzuim-preventie-cruciaal/
De Ondernemer – https://www.deondernemer.nl/personeel/arbo-unie-verzuim-psychische-klachten-werknemers~4678234
Arbo Unie – https://www.arbounie.nl/werkgever/nieuws/verzuim-door-psychische-klachten-in-2023-hoger-dan-ooit
Arboned – https://www.arboned.nl/uploads/inline/Voorkom_uitval_door_werkstress_werkgever.pdf
ABN AMRO – https://www.abnamro.nl/nl/zakelijk/insights/sectoren-en-trends/alle-sectoren/verzuim-voorkomen-is-beter-dan-genezen.html
Week van de werkstress – https://www.wvdws.nl/

Point – https://www.point013.nl/motivatie-autonomie-competentie-en-verbondenheid/