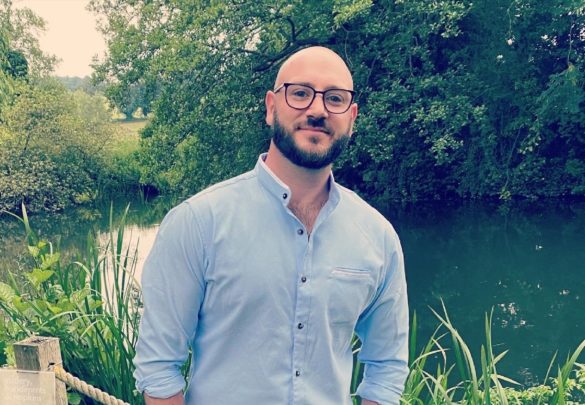 Martyn Thomas (assistant teacher)
"Perspective, use it or lose it" – an old friend
I am hugely looking forward to my role as Assistant Teacher. As a leader of people in my present occupation and having taught in the past, I find reward in developing and coaching people on their learning journey and I enjoy observing personal growth having had some role in it.  This is a continuous journey of development for me also and I am excited for what I will gain in return from the students.
Like with my motivation in doing the course myself, I want to give back and help others. I am certain that I will continue to be inspired by the Teacher and all the new students embarking on this new adventure.
About me
I grew up in Salisbury, Wiltshire in the UK and have been living in the Netherlands now for 3.5 years. I always new I wanted to perform growing up and I moved to London aged 17 to study theatre professionally. Following some time as a performer I found myself working in Human Resources. I have worked for many large global organisations in my career and in recent years in people leadership positions looking after large globally dispersed teams. As a member of the LGBTQ+ community I am hugely passionate about diversity and inclusion, and certainly as a Leader I have always led my teams through the lens of inclusion, wellbeing and belonging with a intended focus on personal growth, learning and development.
I reside in Amsterdam, I love to travel and keep myself active. I recently learnt to swim, I go to the gym and also started playing squash.… most of all I enjoy spending time with my friends, having fun, eating in restaurants and watching a lot of Netflix together….I am also still very passionate about live performance be it theatre, dance or music concerts….
Why have you chosen the ACC and what did the training bring you?
I chose the ACC for a number of reasons. This includes being an English speaking course offering here in the Netherlands. I attended an open day and upon review of the curriculum and in meeting the teachers it catered for my learning needs…. And I was excited. I was also reassured by the accreditations and associations the course has.
The training has enriched my learning and development in all the ways I hoped it would. The content is diverse and I was inspired and learnt from not only my teacher but all my fellow students.  I have grown in terms of knowledge and capability and also professionally in my present occupation in coaching my teams. Personally it has been an enriching and enlightening experience and I have developed a more in depth self awareness, stronger active listening ability and improved observation and perception skills.
As I enter the second year I look forward to more personal and professional learning gains, greater confidence and the opportunity to reshape my career into something more meaningful centred around giving back.
Who is my hero and why?
Ru Paul, because of what he has achieved creatively and as a role model and advocate for both the LGBTQ+ and BAME communities. But in general bringing everyone together in standing for equality, self expression and love and owning your truth. "Can I get an amen up in here!".